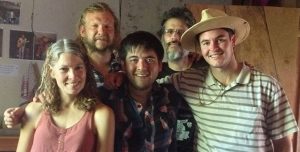 Barleywine Revue, a Tacoma, Washington based band
was conceived in January 2010 by a group of players who
shared a passion for writing and playing really good music.
Here's the current lineup:

Forest Beutel on banjo is a founding member of Barleywine Revue. Born and raised in Rhode Island, Forest brings a lot of energy to the band. His experiences on the road from east to west offer great fodder for song writing material. Forest's roots in the punk tradition are evident in his need for speed, tongue in cheek lyrics, and appreciation for simplicity in music. Forest also plays with the Rusty Cleavers (RustyCleavers.bandcamp.com) and is in the process of recording his first solo album.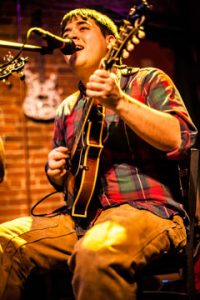 Kevin Shintaku on bass is a founding member of BWR. A native of Salem, OR, Kevin brings a wealth of musical knowledge to the table. Kevin lights the bass afire and keeps the Barleywine beat going strong. Shadows of Kevin's extensive background in jazz tastefully seep through his strings during his epic bass solos. Kevin is also a member of the Rusty Cleavers and Fang Chia and recently started performing on celtic harp.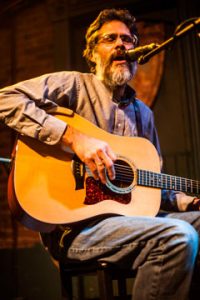 Gen Obata joined Barleywine in early 2012, having recently moved to Tacoma from St. Louis, MO, where he was a member of the traditional bluegrass band, Seldom Home, and the eclectic acoustic bands, Raven Moon and City Folk. Gen's fervor for flat-picking his 6-string united him with Barleywine faster than you can say "Hoo-doggy!" He brings hard driving flatpicking guitar playing and heart felt vocals to the band. Even the staunchest of critics are silenced when they witness Gen's flat picking style. In addition to his playing, Gen's song-writing genius, vocal range, and knowledge of bluegrass music would be an asset to any band, Barleywine is just lucky enough to have met them when they did. Gen is also known for his photographic images of a giant cat named Lilly.
Fast fiddlin Julie Campbell has been with Barleywine since October 2011. Originally from Ohio, Julie grew up playing the classical viola until one day someone put a fiddle in her hand and for Julie there has been no looking back. You may recognize Julie from her previous band, Deadwood Revival, who blazed a trail through the Pacific Northwest roots music scene just a few years ago. Her infectious fearless energy will have you on your feet before you can say Cluck ol Hen!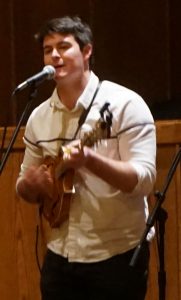 California native Kyle Kuebler returns to the band with his lighting fast mandolin leads. Kyle was an early member of the band, playing guitar before switching to mandolin. Kyle is an accomplished songwriter and adds his amazing voice to the Barleywine mix.
Past Members:
Micaela Cooley, Amelia Thornton, Elizabeth Newton, Ian Gowing, Sean Bernfeld, Abby Visser, Randy Trowbridge, Coby Tamayo
PRESS:
"Barleywine Revue credits itself simply as a bluegrass band, but to hear it, the band somehow transforms that format into something more.  You're guaranteed to find flawless harmonies and impeccable musicianship." Rev. Adam McKinney, Weekly Tacoma Volcano
"a superb combination of country drinking songs and foot-tappin' jams" Bryan Frantz, Rambles.net
"I appreciate their youthful zest, unpretentious exuberance, and unbridled fervor for acoustic roots music." -Joe Ross, Roots Music Review
"Tacoma bluegrassers The Barleywine Revue exist to relieve some of the tension and pop the bubble of seriousness. They want you to untuck your hands and have another beer." -Chris Kornelis, Seattle Weekly